Studio Tour $150 – Premier artists can upgrade to this level of membership anytime. All other must apply for membership and go through the vetting process. Studio Tour members enjoy all the benefits that the guild offers plus they present at the annual Cross Timbers Artists' Guild Tour.
You must live inside the boundaries inside this map to qualify for a Studio Tour membership.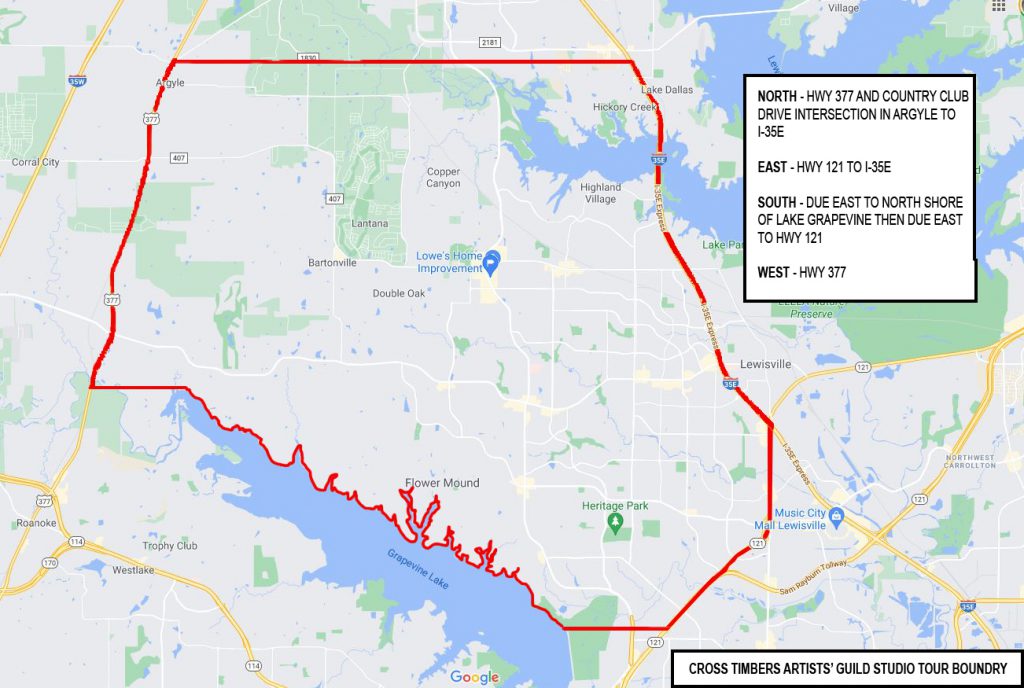 Meetings – Enjoy the social gathering once per month of artists with varying degrees of experience. Discuss mediums, techniques, and ideas with each other. Find a mentor or be a mentor yourself. A monthly newsletter lets you know the agenda of the upcoming meeting along with opportunities to share your art in external shows.
Guest Artist – Each month a new guest artist is invited to share their techniques and ideas around their style of art.
Tour Intern – Learn the ropes of exhibiting art in our exclusive CTAG Artist Tour each November. Assist seasoned artists in their exhibits by helping with displays, greeting people, providing introductions and directions, handing out materials, prepping the public to meet the artist and controlling the flow of the crowds.
Featured Artist – Each month artists are featured on our CTAG web page giving them better exposure to the public.
Exhibits – CTAG participates in several events in the area where vetted members can have their art displayed for sale.
Website – Vetted artists can be found on the CTAG website along with samples of their work and statements.
Studio Tour – 20-30 vetted artists participate in the Cross Timbers Artists Studio Tour. It kicks off with 30 days of exhibit at the Studio Art House Gallery (SAH Gallery) located in Flower Mound. The general public can come and view samples of the tour artist's work and plan out their route they wish to take when the tour starts. The day before the tour we hold our guild meeting at the gallery for a night of fun and social networking. Then on Saturday the public tours the studios and watch them work demonstrations and discuss their art. Works are for sale at each location